Balderson Honors the Life and Service of Lima Company First Sergeant Dan Altieri
Washington, September 30, 2021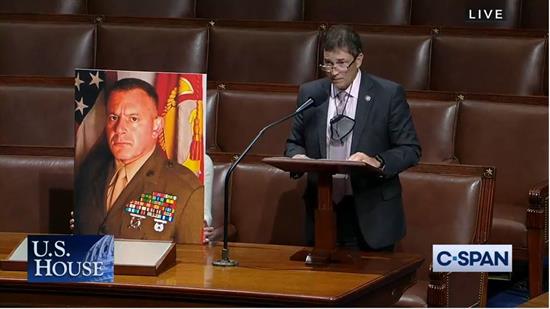 Click here to view video of Representative Balderson's
remarks delivered on the House Floor.

WASHINGTON, D.C.—Congressman Troy Balderson (OH-12) joined a bipartisan group of lawmakers Thursday to honor the life and service of United States Marine Corps Reserve (Ret) Sergeant Major Dan Altieri, in the wake of his unexpected passing on September 20, 2021.

Sgt. Major Altieri served as Company First Sergeant for Lima Company, which operates out of the Navy and Marine Corps Reserve Center at Rickenbacker Air National Guard Base in Franklin County. Altieri retired in 2012 after more than 30 years of active-duty and reserve service in the Marine Corps.

In 2005, Sgt. Major Altieri led Lima Company during combat operations in Iraq, where the unit suffered the historic loss of 22 Marines and Navy corpsmen. Upon Lima Company's return home, Altieri played a vital role in caring for the Marines of Lima Company as they mourned their losses.

Congressman Balderson delivered a condensed version of the following written statement from the House Floor, recognizing the life and service of Sgt. Major Dan Altieri:


Thank you, Madam Speaker.

I rise today to honor the life and service of Lima Company, Third Battalion, 25th Marines, Sergeant Major Dan Altieri.

Always going above the call of duty to care for his Marines–as a Senior Staff NCO and as a friend and mentor, the Sergeant Major was the living embodiment of the Marine Corps motto: Semper Fidelis, "Always Faithful."

Sergeant Major Dan Altieri dedicated more than 30 years of service to the Marine Corps. Additionally, he served 25 years as a deputy with the Stark County sheriff's office in Canton, Ohio.
Altieri began his distinguished military career in 1982 when he first joined the Marine Corps.

Throughout his years of service, Altieri was deployed overseas more than 10 times, including to Grenada, Lebanon, the Gulf War, and to both Iraq and Afghanistan in the Global War on Terror.

As a leader with significant experience, Altieri helped his Marines prepare for deployments, making sure they were mentally and physically ready-to-go, encouraging them to stay focused, adaptable, and open-minded.

One of his Marines said it best when he reflected on Altieri, saying, "It was amazing to have someone like him to turn to. He truly cared for every one of us. His Marines would follow Sgt. Major Altieri through to the gates of hell."

In fact, that is exactly what they did.

Suffering unprecedented losses during its 2005 Iraq deployment, he led his Marines in multiple combat operations and Sergeant Major Altieri played a vital role in caring for Lima upon its return home. As his Marines and so much of Central Ohio mourned for Lima Company in the wake of tragedy, it was left to Altieri to hold his Marines together–a task requiring both strength and compassion.

Outside the Marines, he was a family man. He was a loving husband and father. His devotion to family was reflected in his love for his wife Kovette, two grown sons, sister and his mentorship of others.

Today, the hearts of so many Ohioans are with the Sergeant Major's wife and family, his Marine Corps Family, the law enforcement community, and to the countless other lives touched by this remarkable U.S. Marine.

Madam Speaker, I yield back.